Awards and Reviews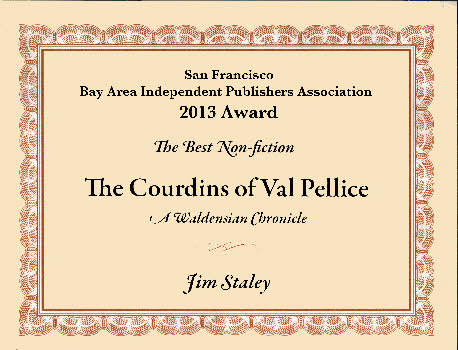 The US Review of Books, review by John E. Roper
The study of history focuses on a variety of topics such as world wars, key inventions, and significant events .... Yet at the center of every movement, revolution, or great breakthrough have been ordinary people whose lives were the building blocks of societal change. The vast majority of these individuals never find their way into the textbooks .... Yet the stories of those who are not as well-known are still of importance in the overall chronology of the past, and most especially to their descendants. With this in mind author Jim Staley has written a comprehensive overview of one specific family, the Courdins, spanning four generations that is rich in anecdotes, photographs, and lore.
Staley's history begins in a small region on the eastern slopes of the Cottian Alps in Italy ... the ancestral home of the Courdins, a Waldensian family who can date their presence in the village from at least 1586. ... by the middle of the 19th century, economic conditions in their valleys threatened to destroy them. In desperation the governing body of the Waldensian church began investigating locations for its members to emigrate to ... The first wave of a growing exodus of Waldensian families from their European enclave would burst upon the shores of South America. In less than two decades, many of these families would move again, but this time to the United States.
Although the author spends much of the early part of the book giving his readers an excellent overview of events leading up to the exodus, the move itself, and the nineteen years of struggle in Uruguay, the bulk of his history focuses on the individual Courdin families descended from those early emigrants.
Staley's book is strengthened by the depth of his research, the care he takes to give each family line equal representation, and the wealth of supporting photographs and illustrations he uses to make his subjects real to the reader and not just a collection of names in a dusty genealogy.
Read the complete review.
The Monett Times: "Staley book explores Waldensian heritage"